Frequently Asked Questions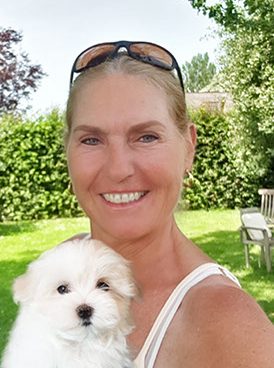 WHY CHOOSE THE MALTESE BREED?
They are small and have a handy size, friendly character and a noble white coat that does not shed! Also, their social nature and limited need for course are some of the numerous aspects that you will find in this breed.

HOW DO I RECEIVE MORE INFORMATION ABOUT THE PUPPIES, AVAILABILITY?
You write us an email with a short presentation of yourself and your living situation (living situation, work, family composition, time spent and attendance…) We would like to hear your experience with this breed or other dogs briefly described. Finally, our Maltese are exclusive dogs that deserve a golden litter!
HOW TO APPLY FOR A PUPPY, CAN I BE PUT ON A WAITING LIST?
If we find you a suitable candidate for one of our puppies, we will record your details on our candidate list according to date of application. We will notify you shortly after the litter is born.
HOW LONG TO WAIT FOR A PUPPY?
The average waiting time is 2 to 6 months. Keep in mind that setting conditions such as gender and size increase the waiting time. The litters are small, on average 3 so there is often no sex or 1st litter choice.
OUR PUPPY IS BORN AND HOW DO WE FOLLOW THIS GROWING UP EVOLUTION?
You will be notified at birth and shortly afterwards we will set up a Whatsapp group of the new family! In it we post info, many photos, video, purchase list, puppy guide, evolution physically and mentally, vet check-up, visiting moments, facts… until the puppy comes to you.
DO I CHOOSE A MALE OR RATHER A FEMALE?
There is hardly any difference in character between the two! If you choose a, know that she will be in heat 2 times a year (fertile period duration: 2 weeks) and no breeding permission is granted contractually. Their hormonal fluctuations sometimes trigger apathy. 
Adult are quite easygoing and therefore choose to laze rather than play … . Are you young or young at heart? Do you have children who see your future puppy as their playmate? Then opt for a male!
Males love play and interaction. They are always ready whenever there is something to do. If you have him castrated in time, he will not fly flags everywhere (lift his leg) and you will have a cheerful, playful Maltese.
I DO NOT LIVE IN BELGIUM BUT I DO LIVE IN EUROPE, IS THERE A DIFFERENCE WHEN PURCHASING?
According to European legislation, your puppy will have to stay with us for up to 15 weeks. For good socialization, your puppy will be further trained with an experienced habituation family from 9 weeks until his departure. All necessary additional vaccinations and documents are provided. You do have to count on an additional cost for this service.
WHAT DOES A PUPPY (AND ITS RELEASE) COST?
The purchase price is determined by several things such as the pedigrees and tests of our own bitches and males. They are the foundation, the carriers of the genes and the qualities of your future puppy. Beautiful, healthy and sociable parents, tested for all major conditions.
The high quality of life applied here applies to all our Maltese. In particular, a spacious and luxurious place to stay for the adult dogs, our optimal maternity, nice covered and open playground and walking meadow where they spend several extensive stays every day. Day and night permanence and care of our litters.
The extensive habituation, potty training and correct vaccinations, deworming etc. of the puppy you will adopt. The combination and pedigree parents, the litter size, breed standard and qualities, gender and availability. Furthermore, all our dogs are pedigree bookkeepers and purebred Maltese.
You choose this breed because this little guy has all the idiosyncrasies that you consciously choose. Know, therefore, that racial purity will fulfill these expectations. The small size, playful behavior, white silk coat and tolerant character to name but a few…
Our price tag is hefty, so may your expectations. We aim for the highest quality in our breeding and the best service to you as a new owner of this beautiful breed! We pride ourselves on that.
Budget expansion will be discussed extensively later but starts at 200 euros until … . How much you want to spend yourself, of course. Go to a specialist store and do not buy prematurely, we will provide you with a handy list of items and care products.
WHEN WILL PUPPY COME TO US AND WHAT ELSE DO YOU GIVE US?
Your puppy leaves us at 9 weeks or 10 weeks when we deem it necessary. This will be communicated to you in good time. He prefers to leave the morning for home habituation. We provide: Your warranty certificate (+ invoice print both digitally), puppy guide,
European passport with veterinary control and vaccinations and parasitic treatments, explanation and latest advice homecoming, cuddly toy and cloth nest, nutrition package Royal Canin with purchase voucher. You will receive the family tree within 4 months afterwards. KMSH, the studbook keeper is more likely to email you your owner registration with login on their website.
WILL YOU SUPPORT US WITH QUESTIONS OR PROBLEMS AFTER PURCHASE?
The follow-up after puppy purchase is crucial for some adopters and we are happy to support them via telephone or electronic conversations. Is it advice on behaviour, well-being, integration or potty training or other? We are happy to help you. Know that veterinary problems are better diagnosed by your veterinarian, as a good breeder we are happy to refer you in case. The grooming salon can often point out coat problems and tooth change checks.
DO WE HAVE A WARRANTY ON THE PUPPY, AND IF SO, FOR HOW LONG?
You have a 2-year warranty certificate valid from the first day the puppy comes to you, so the day of puppy pick-up and delivery of this document. This applies to all congenital hereditary and non-hereditary defects specific to your dog, unless they are mentioned under the heading "defects" in your warranty contract. We are happy to answer your substantive questions if desired.
HOW OFTEN SHOULD THE MALTESE BE BRUSHED AND WHAT DOES THE GROOMING SALON COST?
In your puppy guide you will find all this extensively, in short it is the case that a daily brushing is required. The dog grooming salon is best visited every 2 months and costs you an average of 50 to 80 euros depending on the desired hairstyle and coat condition!
WHAT DO I FEED MY PUPPY AND HOW MUCH?
Our puppies are on dry food Royal Canin and this puppy pack accompanies your new friend on his departure. Your puppy can eat at will and it is best to weigh the puppy and not the offered granules of dry food. More about this in the purchase phase.
HOW LONG CAN A MALTESE STAY ALONE?
Dogs need social contact and exercise and of course they also need to be able to do their needs regularly. A guideline is to leave adult dogs alone for no more than 4 to a maximum of (and not every day) for 6 hours in a row. Due to its size, the Maltese can often go anywhere and loves it.
HOW OFTEN SHOULD YOU WALK A MALTESE?
It's best to walk your dog four times a day, dividing the walking rounds between the morning, afternoon, and evening. Walk the last lap just before you go to sleep and make sure that at least one of the exhaust rounds lasts at least half an hour. If you have a garden, you follow the same schedule, but a trip on a leash is good for socialization and the health of dog and owner!
HOW DO I TRAIN PUPPY POTTY TRAINING AND WHAT ABOUT THE FIRST NIGHTS?
The potty training is started here from the very beginning. You continue this training on the wipes or the puppy pads. Your puppy knows this very well and you will notice that immediately. You can combine this with the walks, garden visits or walking trips. At night you choose a fixed sleeping place that you set up according to our instructions. Tips and tricks are discussed!
I SEE MALTESE WITH VERY RED FUR ON THE EYES, HOW DO I AVOID THIS?
Daily care with the right products, we provide them and the application is extensively covered in your puppy guide. Know that tooth change in young dogs causes a temporary surge. Furthermore, illness, wind, cold, stress, air conditioning and other things will provoke watery eyes. Better safe than sorry! Despite your good care, does your adult Maltese still have watery eyes? We will provide you (after consultation) with the correct and safe options to remedy this problem. 
WHY CHOOSE A MALTESE WITH PEDIGREE AND WHO IS RECOGNIZED FOR THIS?
The Koninklijke Maatschappij Sint-Hubertus (KMSH) is the only kynological society recognized by the FCI in Belgium. The KMSH is responsible for maintaining the studbooks of all Belgian dog breeds. A dog with a pedigree of the KMSH therefore has an officially recognized pedigree. The varietal purity guarantees the breed qualities such as appearance and peculiarities.
Other advantages over a pedigreeless dog are: For example, you can participate in sports, official competitions, training and shows. You can also become a member of a breed club or of a pedigree dog with a pedigree dog
Kynologenclub1.
WHAT DO THE VET VISITS COST AND HOW OFTEN IS THIS NECESSARY?
Your puppy is well vaccinated and dewormed. You go for the repeat vaccination 12 weeks and at 5 months of age for the leptospirosis vaccination ( rat disease );
After this, you go annually. If your Maltese is ill or seems very quiet, it is best to make an appointment with your trusted veterinarian.
On average, you pay 80 – 120 euros depending on the nature of the consultation. Traumatic injuries, additional tests, procedures, photo, ultrasound and others are variable supplementary veterinary costs. There are dog insurance policies.